The RSYS squad with coach Mike Fletcher.
Sophie Hunt writes, 'A keen group of Laser sailors headed off on Sunday morning to participate in the 50th Anniversary Laser regatta hosted by Double Bay Sailing Club. Some of us very new to the class, others celebrating a boat we began sailing 35 years ago!
Despite the rain clouds and the strong wind warning, over 120 Laser sailors lined up for a commemorative race from Mrs. Macquarie's Chair to South Head, all starting on the same line. The course was a fast reach and run down the eastern side of the harbour, with plenty of fun rides and a few swims pushing a bit too hard.
RSYS sailor Brooke Wilson came 2nd overall – in a Radial – only beaten over the line by a full rig sailed by Chris Rodowicz.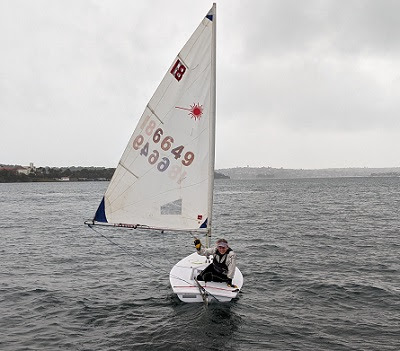 Dinghy and Youth Committee Chair, Sophie Hunt, heading out from RSYS for the race.
13 RSYS sailors sailed out from the club to join in the race, plus a few others who sailed out from other harbour locations, making RSYS the second largest club by representation. It was great to see some of our divisional sailors (Pete Lowndes, Sara Ladd, Kirstin Reblin and Elyse Guevara) charter a club Laser and join.
Jon West was the on-water photographer.  He has some amazing pictures of the day https://jonwestphotography.smugmug.com/Sailing
Big thanks to Josh Chant and Zac West for helping all of us get on the water!'